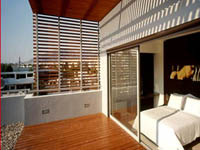 Luxury, comfort and utmost service characterize Brasil suites for both the relaxing guest and the business visitor.
Recently renovated, the new view of Brasil Hotel and Apartments came to change radically the traditional style hotels in the Glyfada area.The minimal, contemporary style, designed by a famous group of architects, generates a modern atmosphere which exudes throughout the entire hotel.
15 Executive Suites are designed to indulge high exrectations offering at the same time the
comforts of a fully equipped apartment.